Seoul
Incheon - Gyeonggi

서울
인천 (仁川) - 경기 (京畿)

Background
Locale
Seoul, Incheon, Gyeonggi
Transit type
Rapid transit
Number of lines
10 (MRT); 10 (Regional); 1 (LRT)
Number of stations
324 (MRT); 237 (Regional); 15 (LRT)
Technical
System length
MRT - 345.7 km (214.81 mi)
Regional - 577.3 km (358.72 mi)
LRT - 11.1 km (6.90 mi)
Track gauge
1,435 mm (4 ft 8 1⁄2 in)

Seoul is one of the most heavily used rapid transit systems in Sudogwon area and the world, which services 7 million passengers by the metropolitan system alone and well over 8 million trips daily by the greater system's sixteen lines consisted of the Seoul Metro, Seoul Metropolitan Rapid Transit Corporation & Korail regional lines. The system serves Seoul, Incheon, Gyeonggi, northern South Chungcheong, and western Gangwon. There are connections to the A'REX at Seoul Station and Gimpo Airport, and a free transfer with the single-line Incheon Subway system at Bupyeong on Line 1. Since 2008, all stations operated by Seoul Metro and SMRT have been fitted with platform screen doors, but only within Seoul and excluding stations operated by Korail.
All directional signs in the Seoul Subway are written in both Korean and English. Station signs and some maps also display Hanja. The pre-recorded voice announcement in the trains indicating the upcoming station, possible line transfer and exiting side are all in Korean followed by English, and in some cases Japanese then Chinese.
The metropolitan subway network is operated in two forms[1] and by seven different organizations:
Urban Rail (MRT & LRT)
Seoul Metro (Line 2, underground section of Line 1, and large parts of Line 3 & Line 4). The corporation runs a total of 199 trains at 115 stations on lines 1–4. Generally, operation intervals are 2.5–3 minutes during rush hours and 4–6 minutes during non-rush hours. An average of 3,879,000 passengers use subway lines 1–4 daily.[2]
Seoul Metropolitan Rapid Transit Corporation (SMRT) (Line 5, Line 6, Line 7, and Line 8). An average of 2,037,000 passengers use subway lines 5–8 daily.[2]
Seoul Metro Line 9 Corporation for Line 9
Incheon Metro for Incheon Line 1
Uijeongbu Light Rail Ltd. for Uijeongbu
Regional Rail
Korail (Korea Railroad); (Bundang, Jungang, Gyeongui, Gyeongchun, most of Line 1, and parts of Line 3 & Line 4). An average of 2,177,000 people use Korail's Seoul regional lines daily.[2]
Korail Airport Railroad Co. for A'REX
NeoTrans Co.,Ltd. for Sin Bundang Line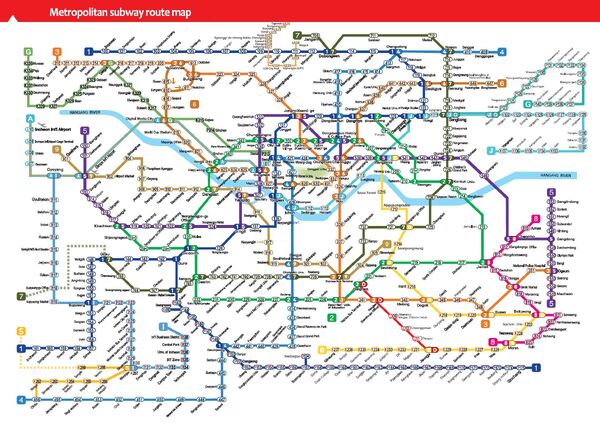 References
Edit
↑ Ministry of Land, Transport and Maritime Affairs of South Korea: Definition of Urban Rail and Wide-area Rail
↑ 2.0 2.1 2.2 "Transportation: Subway". Seoul Metropolitan Government. Archived from the original on 2007-07-03. http://web.archive.org/web/20070703162807/http://english.seoul.go.kr/residents/transport/trans_04sub_01.html

. Retrieved 2007-08-07

.