Shanghai
Background
Locale
Shanghai
Transit type
Rapid transit
Number of lines
11 (MRT); 1 (Regional); 1 (Maglev)
Number of stations
243 (MRT); 9 (Regional); 2 (Maglev)
Technical
System length
MRT - 424.8 km (263.96 mi)
Suburban - 56.4 km (35.05 mi)
Maglev - 33.0 km (20.51 mi)
Track gauge
1,435 mm (4 ft 8 1⁄2 in)
Shanghai, rapid transit system incorporates both subway (地铁) and light metro (轻轨) lines. It opened in 1995, making Shanghai the third city in Mainland China, after Beijing and Tianjin, to have a rapid transit system. Since then, the Shanghai Metro has become one of the fastest-growing rapid transit systems in the world.
As of 2012, there are 11 MRT lines, 1 Maglev line and 1 regional line, 279 stations[note 1] and over 434 kilometres (270 mi) of tracks in operation,[2] the longest network in the world.[3] The Shanghai Metro delivered 2.101 billion rides in 2011,[4] the fifth busiest in the world. It set a daily ridership record of 7.548 million on 22 October 2010. The system continues to grow, with new lines and extensions of old lines currently under construction.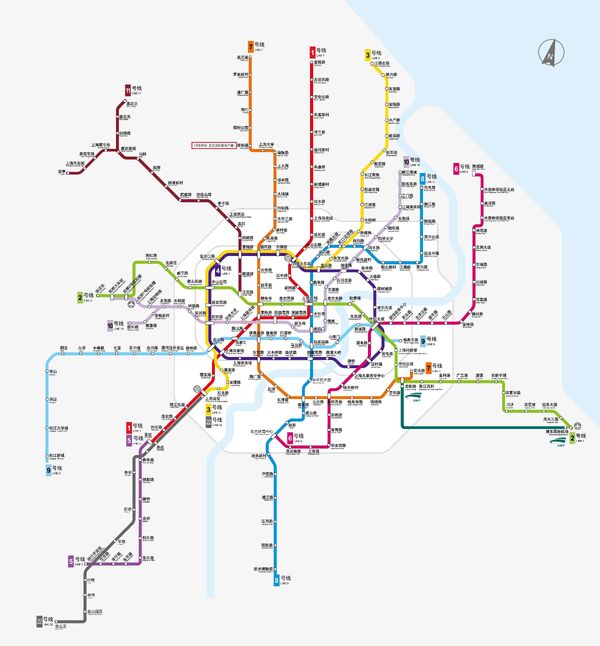 ↑ 279 is the number of stations if interchanges on different lines are counted separately, with the exception of the 9 stations shared by Lines 3 and 4 on the same tracks. If all interchanges are counted as single stations, the number of stations will be 243.[1] The two stations on the Maglev Line are not counted in both cases.
References
Edit