Singapore

新加坡
Singapura
சிங்கப்பூர்

Background
Locale
Singapore
Transit type
Rapid transit
Number of lines
4 (MRT) & 3 (LRT)
Number of stations
102 (MRT) & 43 (LRT)
Technical
System length
MRT - 148.9 km (92.52 mi)
LRT - 28.8 km (17.90 mi)
Track gauge
1,435 mm (4 ft 8 1⁄2 in)
Singapore current MRT network consists of four main lines, for a total network length of 157.9 km (98.11 mi) and with 102 stations. The North South Line, East West Line and Circle Line are operated by SMRT Trains (SMRT Corporation), while the North East Line is run by SBS Transit. The latest expansion of the network is the Circle Line Extension from Promenade Station to Marina Bay Station which in operation since 14 January 2012.[1]
LRT functioning as feeders to the main MRT network has been under study for some time, particularly since the existing urban configuration of self-containing new towns spread out in the suburbs meant it was feasible to consider having light rail systems connecting each town to the MRT station in the town center, a role which has traditionally been provided by feeder buses. Thus, the first SMRT Corporation operated LRT was opened in Bukit Panjang Line in 1998 to provide a connection to the Choa Chu Kang Station in neighbouring Choa Chu Kang New Town. Although subsequently hit by over 50 incidents, some of which resulted in several days of system suspension, similar systems albeit from a different company were introduced in Sengkang Line and Punggol Line in 2003 and 2005 respectively, both operated by SBS Transit.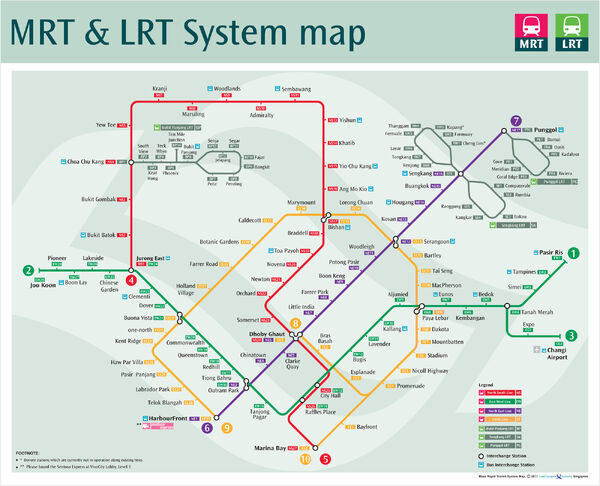 References
Edit
↑ "Marina Bay, Bayfront stations open; more relief for commuters soon". Straits Times. http://www.straitstimes.com/The-Big-Story/The-Big-Story-3/Story/STIStory_755544.html

. Retrieved 2012-01-14

.