Taipei
New Taipei

臺北
新北

Background
Locale
Taipei & New Taipei
Transit type
Rapid transit
Number of lines
5*
Number of stations
97
Operation
Began operation
28 March 1996
Technical
System length
112.8 km (70.09 mi)
Track gauge
1,435 mm (4 ft 8 1⁄2 in)


1,880 mm (6 ft 2 in)

Taipei rapid transit system serving Taipei and New Taipei in Taiwan. The system is built and operated by the Taipei Rapid Transit Corporation (TRTC) and consists of 97 stations and 112.8 km (70.09 mi) of revenue track. The system carried an average of over 1.66 million passengers per day in December 2011.[1]
The Taipei Metro is Taiwan's first metro system.[2] Since it first began operations in 1996, the system has been effective in relieving some of Taipei's traffic congestion problems.[3] The system has also proved effective as a catalyst for urban renewal, as well as increasing tourist traffic to outlying districts such as Tamsui. Conversions to existing railway lines were made to integrate them into the metro system.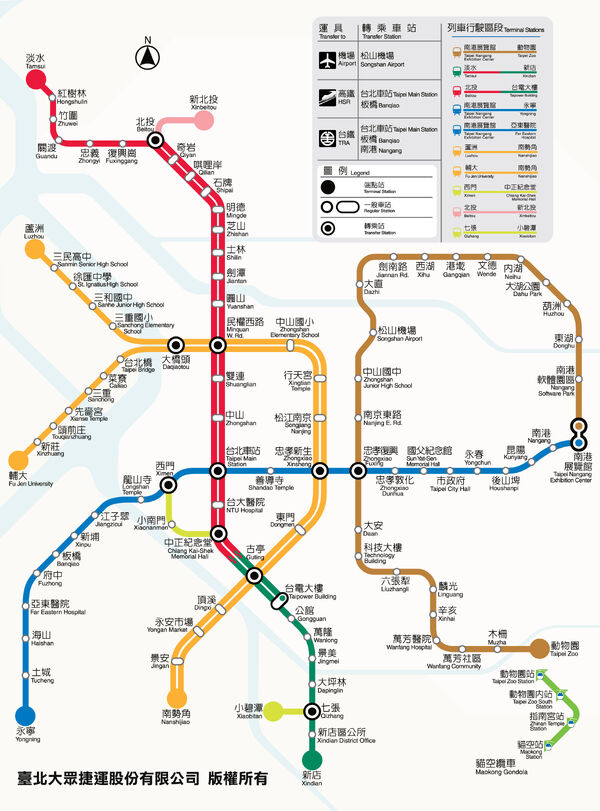 References
Edit
↑ "Transport Volume Statistics". Taipei Rapid Transit Corporation. http://english.trtc.com.tw/ct.asp?xItem=1056489&ctNode=11767&mp=122032.

 

↑ "Taipei Subway Ranks as one of the Best". Wired. 2007-10-15. http://www.wired.com/autopia/2007/10/taipei-subway-r/

. Retrieved 2010-03-13

.

 

↑ "Traffic nightmares plague Taipei". The China Post. 2001-09-20. http://www.chinapost.com.tw/taiwan/detail.asp?onNews=1&GRP=D&id=17269

. Retrieved 2010-06-30

.