Tokyo
Kanagawa - Chiba - Saitama

東京
神奈川 - 千葉 - 埼玉

Background
Locale
Tokyo, Kanagawa, Chiba, Saitama
Transit type
Rapid transit
Number of lines
13
Number of stations
274
Technical
System length
328.8 km (204.31 mi)
Track gauge

1,067 mm (3 ft 6 in)




1,372 mm (4 ft 6 in)


1,435 mm (4 ft 8 1⁄2 in)
Tokyo the world's most extensive rapid transit system in a single metropolitan area, Greater Tokyo. While the subway system itself is largely within the city center, the lines extend far out via extensive through services onto suburban railway lines.
As of June 2008, the entire network of Tokyo Subway has 274 stations and 13 lines. The Tokyo Metro and Toei networks together carry a combined average of over eight million passengers daily.[1] Despite being ranked first in worldwide subway usage, subways make up a small fraction of heavy rail rapid transit in Tokyo alone—only 274 out of 882 railway stations, as of 2007.[2] The Tokyo subway at 8.7 million daily passengers only represents 22% of Tokyo's 40 million daily rail passengers.[3]
There are two primary subway operators in Tokyo:
Tokyo Metro. Formerly, Teito Rapid Transit Authority (TRTA), privatized in 2004 and presently operating 168 stations and nine lines. The minimum price for one ride is 160 yen.
Toei Subway (Tokyo Metropolitan Bureau of Transportation). An arm of the Tokyo Metropolitan Government, operates 106 stations in four lines. The minimum price for one ride is 170 yen.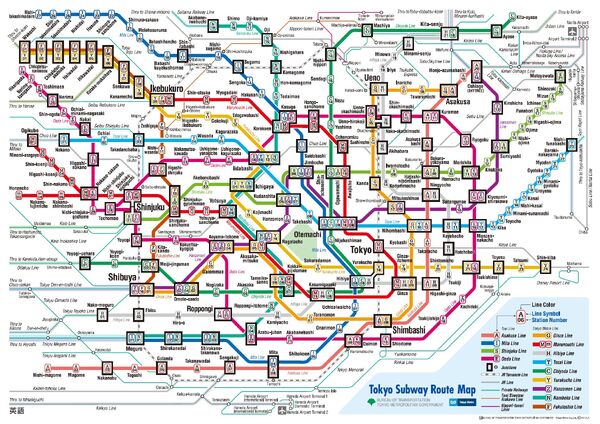 References
Edit
↑ "Japan Today: Subways keep Tokyo on the move". http://www.japantoday.com/jp/feature/1055

. Retrieved 2007-01-24

.